Software →
Autodesk Inventor (Pro) 2020.1 - m0nkrus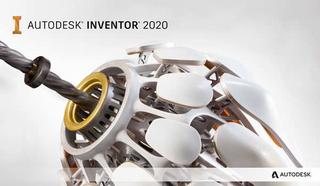 Autodesk Inventor (Pro) 2020.1 - m0nkrus | 9.1GB
Autodesk Inventor is a comprehensive set of solutions for engineering 3D-design and release of documentation, the development of cable and pipeline systems, the design of injection molds and testing the performance characteristics of the products being developed. Thanks to Autodesk Inventor, engineers can integrate AutoCAD drawings and other 2D data into a single model, creating a virtual representation of the final product. Verification of the form, tolerances and functionality is carried out by means of the program long before the product is launched into production.
System requirements:
- 64-bit Microsoft Windows 7 SP1 with update KB4019990 or Windows 10
- Processor with a clock frequency of 2.5 GHz (recommended 3 GHz, at least 4 cores)
- 20 GB of RAM (for assemblies with less than 500 parts, 8 GB of RAM)
- Video adapter with 1 GB of video memory, bandwidth of 29 Gbit / s (4 GB and 106 Gbit / s recommended) and support for DirectX 11
- Screen resolution 1280x1024 (DPI 1080p) with True Color color palette (3840x2160 (4K) recommended; preferred scale is 100%, 125%, 150% or 200%)
- 40 GB of free disk space
- Google Chrome or equivalent
- .NET Framework 4.7 or later
Complex models, complex mold assemblies and large assemblies (over 1000 parts)
- Processor with a clock frequency of 3.3 GHz, at least 4 cores
- 24 GB RAM
- Video adapter with 4 GB of video memory, bandwidth of 106 Gbps and support for DirectX 11
Functionality
Parametric modeling
Assembly modeling
Creating drawings
Flexible modeling
Direct modeling
Simulation of arbitrary shapes
Concept development and layout in the engineering field
Plastic parts design
Sheet Metal Parts Design
Form generator
Automatic product configuration
Automation of the design of parts and assemblies
Component Generators and Calculators
Automated frame design
Electromechanical systems
Automated design of pipeline systems
Work with third-party data
Interaction with BIM technology
Interaction with the printed circuit board (PCB)
Data management
Check 3D projects in the cloud
Export in 3D PDF
Dynamic modeling
Stress analysis
Visualization and rendering
Exploded views and animations
Assembly features
Produced the union of the original Russian and English distributions into one.
The installer adds the ability to install local help for both the English and Russian versions of the program.
Inventor 2020.1 Update has been integrated into the installation package.
The Autodesk Application Manager utility that is not involved in the installation has been removed from the installation package.
The Autodesk Genuine Service utility, designed to capture unlicensed products, has been removed from the installation package.
Utility Autodesk Licensing updated from version 9.0.1.1462 to version 9.0.3.46.
Utility Autodesk Desktop App updated from version 7.0.14.33 to version 7.0.16.29.
Added the ability to refuse to install the Autodesk Desktop App utility.
The assembly is spared from some problems that arise, when installing an image through a virtual drive, the installer sometimes required another disk.
The combined installer is optimized so that it lost ~ 1.4 GB in weight without losing functionality.
Everything you need to disinfect and install both regular Inventor and Inventor Professional, including detailed instructions, is located inside the image in the Crack folder.
Treatment procedure
Install Inventor 2020 or Inventor Professional 2020 by selecting the desired
DOWNLOADuploadgigrapidgatornitroflare